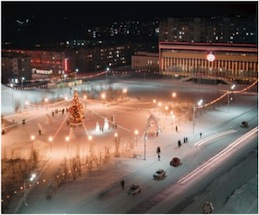 Organizers: Municipality of Vorkuta, Government of Republic of Komi represented by republican energy saving center, IES-Holding.
Prime contractor: GiproKommunEnergo Project Institute Ltd.
Subcontractor: VNIPIenergoprom
City overview:
Vorkuta is located beyond the Polar circle
Population (as of 2009) 116.5 K people
Average yearly temperature: - 6.6ТC
Min. temperature: -52.4 ТC
Max. temperature: + 33 ТC
Electrical energy consumption 1 000 Mil. Kilowatt-hour
Heating season duration: 306 days
Heat consumption volume: 2 556.2 K Gcal
Main goals of work and expected results:
Stage 1 (determine and develop): Actual level of energy intensity of the city. Share of energy in the budget. List of primary energy saving measures. Algorithm of public measures on identification and popularization of the program.
Stage 2 (develop): Detailed list of measures. Energy saving potential along all the production-transfer-consumption chain. Prospective fuel and energy balance. Mechanisms of financing the measures of the program. Long-term program of energy saving measures for the period from 2010 until 2015. List of public measures.
Stage 3 (develop): Electronic model of the municipal public utilities management with consideration of possible options of reconstruction of energy infrastructure.